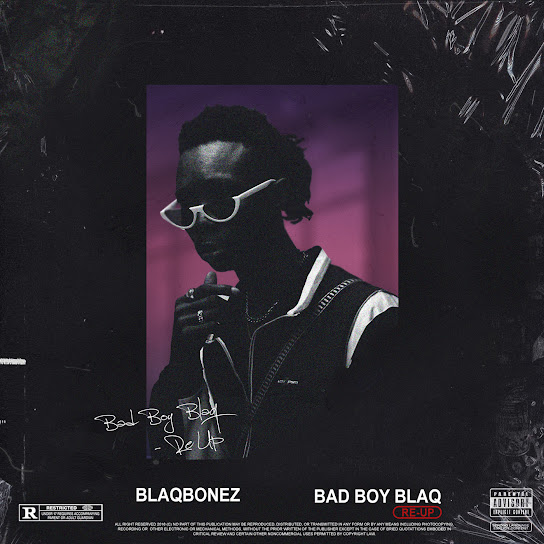 Download PLAY (Remix) by Blaqbonez ft. Ycee MP3 Audio
Nigerian music sensation, Blaqbonez releases a brand new classic hit record titled "PLAY (Remix)". The song features Afrobeat singer, Ycee.
"PLAY (Remix)" is taken from the project called "Bad Boy Blaq Re-Up Album" by the Nigerian rapper Blaqbonez. The album contains 7-tracks.
"PLAY (Remix)" by "Blaqbonez ft. Ycee" is a wonderful song which you should have on your playlist if you are a lover of good music and this particular genre.
Stream and download Blaqbonez ft. Ycee Latest Song, Lyrics & Instrumental right here on SureLoaded.
"PLAY (Remix)" was release by your favourite artiste Blaqbonez ft. Ycee and we made it available for you.
Listen and share your thought below:
Blaqbonez ft. Ycee – PLAY (Remix)
"PLAY (Remix)" LYRICS:
[Intro: Ycee & Blaqbonez]
Tempoe
Ain't nobody badder than
I don see your type before
No be say you like the boy
But you go dey eye the boy
Long as there be cash involved
Ayy, yeah
[Verse 1: Blaqbonez]
Who's that girl oh who's that girl oh
The way she dey whine got me asking
Who's that girl oh who's that girl oh
I don't know you but I fit die for your matter
Die for your matter ah
I don't know you but I dey craze for your waist
Craze for your waist ah
Break it down
Me I never seen it coming
Shawty whine so I pull up and I say what's up and
If you see the girl she ain't ever gonna put it on me
But I want ya cos i got the plank she a never don't play a man
But her wasit kill a man o
She a angel but her body turn man to a sinner man
Turn a bass to her man o
Girl I don see your type o
[Chorus: Blaqbonez]
Ooooh
Bad girl you a slayer, slayer
As a bad boy wey I be sef I be player, player
When a player meet a player (player)
We go enter one sokoto
'Cause I dey ball like maradona (dona)
But I no fit say somebody go play somebody o
Somebody go play somebody o
Today na today
Somebody go play somebody o
Oooh I been falling for you
Can't deny about you
[Verse 2: Ycee]
I'm a real nigga, I don't play no games
All I do is kick ass and take names
All these niggas is trying to change lanes
Yoruba boy, got a bad name to maintain
If I move to your girl issa wrap
Who's that girl with the rack?
See the knife for my back
Hit her once now the shawty calling me back
Great white, you can tell 'bout how I move with the sharks
So you could press P or you could press play
Niggas swerve off, they be in a bentley
We could do this like each and every day
Everytime we steppin' out you know a brother gettin' laid
Eyes on the boy don't blink
Shine shine bobo no bling
They really thought a nigga wanna sing
In the trap but my trap phone don't ring
[Chorus: Blaqbonez]
Ooooh
Bad girl you a slayer, slayer
As a bad boy wey i be sef I be player, player
When a player meet a player (player)
We go enter one sokoto
'Cause I dey ball like maradona (dona)
But i no fit say somebody go play somebody o
Somebody go play somebody o
Today na today
Somebody go play somebody o
Oooh I been falling for you
Can't deny about you
Somebody go play somebody o (somebody go play somebody o)
Somebody go play somebody o
Today na today (today, today)
Somebody go play somebody o
Oooh I been falling for you
Can't deny about you ayy
Focus