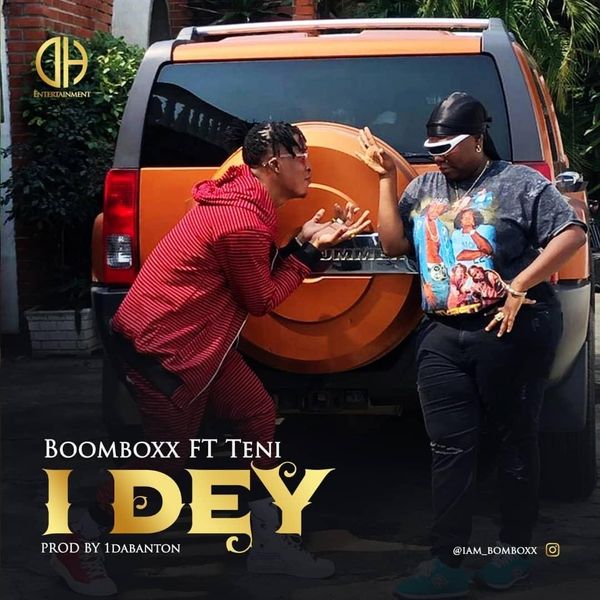 I Dey by BoomBoxx ft. Teni MP3 Audio
Talented recording artist, BoomBoxx teams up with Teni to deliver this brand new impressive hit song titled 'I Dey' which is right here for free download.
'I Dey,' is an enthralling new song from Nigerian musician, BoomBoxx. Teni, the First Lady of Dr Dolor Entertainment, features the new song "I Dey.".
"I Dey" by "BoomBoxx ft. Teni" is an awesome jam which is a must for your playlist if you are a lover of good music and this particular genre.
Stream and download BoomBoxx ft. Teni Latest Song, Lyrics & Instrumental right here on SureLoaded.
"I Dey" was release by your favourite artiste BoomBoxx ft. Teni and we made it available for you.
Listen and share your thought below:
BoomBoxx ft. Teni – I Dey
Watch and enjoy the video below:

DOWNLOAD VIDEO || FAST DOWNLOAD
LYRICS:
[intro]
[Verse 1 Bomboxx]
Bomboxx dey here…
I send you friend request, you no wan accept.
You see my message girl, u no fit deny
Wettin u do me i no fit forget
Some women are wicked, some women are wicked eh
Sugar baby sweeting you only when money dey
But i no get money now, I no get my name, if you no wan do then let me know, because I no fit postpone my love, I no go fit postpone my love
[Hook]
When money no dey dey
When u dey Hunger i dey
When ur hustle no pay i dey
I dey for u i dey
Now u wan dey use me dey play
Play me old man away
If u leave me i go run mad
Call me Mr Romantic
My Money no dey i dey
When u dey Hunger i dey
When ur hustle no pay i dey
I dey for u i dey
Now u wan dey use me dey play
Play may old man away
If u leave me i go run mad
Call me Mr Romantic yeah yeah yeah
[Chorus]
For you, i dey dey dey
For you i dey dey
For you(what what)
For you yeaaahh
For you i dey dey dey
[Verse 2 Teni]
Baby make i explain
Baby i no wan suffer na in a run, i jakpa.
Baby no mean say i no love you or want you
But i dey wait make you hammer, pls forgive me, i love u oh i swear
Baby forgive me, i no mean wettin i do u
So forgive me
I wan dey for u everyday oh my baby oh my baby
My money no dey dey
When u dey Hunger i dey
When your hustle no pay i dey
I dey for u i dey
Now u wan dey use me dey play
Play me old man away
If u leave me i go run mad
Call me Mr Romantic
My Money no dey i dey
When u dey Hunger i dey
When ur hustle no pay i dey
I dey for u i dey
Now u wan dey use me dey play
Play may old man away
If u leave me i go run mad
Call me Mr Romantic yeah yeah yeah
For you, i dey dey dey
For you i dey dey
For you(what what)
For you yeaaahh
For you i dey dey dey
For you i dey dey dey
For you
No mean say i no love you, i want you
Boomboxx dey here yeah
Teni makanaki