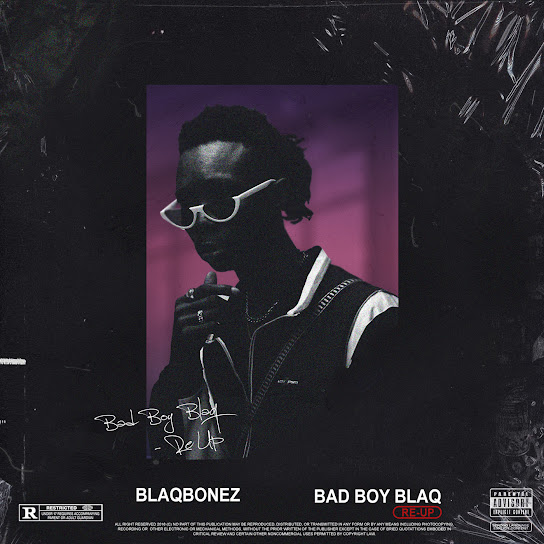 Download Denied (Remix) by Blaqbonez ft. Dremo & PsychoYP MP3 Audio
Nigerian music sensation, Blaqbonez releases a brand new classic hit record titled "Denied (Remix)". The song features Dremo and PsychoYP.
"Denied (Remix)" is taken from the project called "Bad Boy Blaq Re-Up Album" by the Nigerian rapper Blaqbonez. The album contains 7-tracks.
"Denied (Remix)" by "Blaqbonez ft. Dremo & PsychoYP" is a wonderful song which you should have on your playlist if you are a lover of good music and this particular genre.
Stream and download Blaqbonez ft. Dremo & PsychoYP Latest Song, Lyrics & Instrumental right here on SureLoaded.
"Denied (Remix)" was release by your favourite artiste Blaqbonez ft. Dremo & PsychoYP and we made it available for you.
Listen and share your thought below:
Blaqbonez ft. Dremo & PsychoYP – Denied (Remix)
"Denied (Remix)" LYRICS:
Aye
I'm so ahead of my time
2018 held me back
Carry their cross, I'm their Christ
Pray to God to save my life
'Cause I'm really going in, killing this people like flies
Well on my way to the ice
Never been lucky, my life ain't a roll of the dice
I just cannot be denied
This ain't no war
I be like fantasy
Second, I murder like half of your guys
Resbeen stretching telepathic methods
Homie don't even imagine that I'm nice
I've been the sickest, menace like denis
I rap like a lion decuiper dedanis
A lion like Lucius, I'm dicking Cookie on the mattress
I snap like Kardashans, you take me for granted
Your nigga is blaq(okay), I been the kid and it's facts(real talk)
We be the kid wey sabi book but we
Still deh sit for the back(the back)
Don't even talk to me
I can bearly hear you over the sound of my greatness(ayaya)
They told me drop a classic and I did it with no hesitation
Like Nigga I did it 'cause
I'm so ahead of my time
I feel like Samurai Jack
Mohammed Ali in his prime
I knock niggas out of a track
Oh, you Usain Bolt in his prime?
Hope you fast enough to run me a cheque
'Cause I been back to back the girls on my chest
No deh take transfer, I take it straight to the bank
I don't fuck with the bag
Ooh
'Cause rappers don't got it like singers(like singers)
So rappers turn into singers
But I be rapper wey deh sing I'm
Just in between the bars and the bangers
The girls want to bang us, yes I'm the baddest
This is 30BG and the jets' in the hanger
Ayaya
We making the difference, I'm the reason why these rappers are angry
No matter the facts(facts)
I'm set to go in on your mark(on your mark)
They act up but I don't react
'Cause I don't really give a fuck
Don't even talk 'cause I can bearly hear
You 'cause actions speaks louder than words
I'm smoking hot and I'm fly, bout to roll a blunt right before I board
(I'm bored)
You only got you mehn nobody got you(can't be denied)
Just tell 'em fuck off if they don't support you(can't be denied)
I'm bout to take off like Quavo my uncle(can't be denied)
I'm about to do everything that I want to
Really I can't be denied
You niggas should sit on the side
She told me I'm heartless
I listened to Santi, so I put my life on the line
You niggas ain't rolling with pride
Mixing the four with the five (scrr)
Mixing the Lin with the lime (scrr)
Roll up a J for the night
See I don' passed out like a hundred
Times, and I'm blowing up like a hundred mines
You can hit me up on my cellular
But I can bet on it, you won't get the line
I won the clad, I don't need to
Wild nigga drip thick see through
Drip look like it needs sea food
Freezing up her number like I need to
Nigga I'm cold, extra freezing
Shout out to the niggas that believe me
All year YP season
Chain so choked I'm breathing
Oh shit
Oh my Jesus
Really I've been looking for a diva
Send a good chick home don't need her
Take a bad chick out with the visa
I'm so ahead of my time aye
2018 held me back aye
I'm so ahead of my time aye
Came back to carry my charger aye
I'm so ahead of my time oh
Think I already retired aye
I'm so ahead of my time Hmm
Naija already expired aye
Was like 2045 when Buhari was the president
Was still till the president oh shit
He was the president oh shit
Was still the president oh shit
I think naija don expire oh fuck!